Joe Finder at Levengers

Tuesday, May 23, 2006

A day off. One of my favorite authors in town. Doing a signing at one of my favorite stores. Kismet!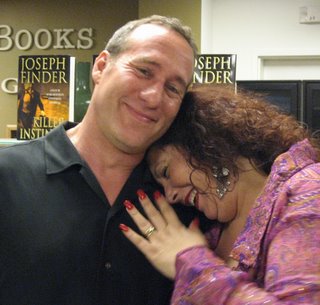 I had the privilege of seeing Joseph Finder - author of KILLER INSTINCT, COMPANY MAN, PARANOIA, HIGH CRIMES and many others - at Levengers in Delray Beach. With his last three books, Joe has sort of invented a new sub-genre, if you will - the corporate thriller. He takes ordinary guys and puts them in extraordinary circumstances, all set in the corporate world where, as he pointed out, 65% of us work and spend a good hunk of our days. So we can relate to the happy salesman in KILLER INSTINCT, or to the cube-dweller in PARANOIA. Of course, their days get considerably more exciting than ours get - thank goodness! Joe writes these page turners that are un-put-downable. Who knew corporate America could be so exciting!

Joe is personable, funny and a very smart guy - graduated from Yale, taught at Harvard, and is a former intelligence officer of the CIA. He spoke a bit about the NSA and the CIA and what is going on today and didn't hold back at all, which was rather refreshing in this day and age, let me tell you. But he mostly talked about the not-quite-glamourous life of a touring author, kiddingly likening it to being a rock star, only his groupies are all librarians! He spoke about the research he does, interviewing CEO's and CFO's and visiting their offices and their warehouses and learning what goes on the various industries he writes about, like the plasma TV business for KILLER INSTINCT. His next book is set in the aeronautical industry and you can bet that one is well researched too. But we have to wait about a year for it!

Meanwhile, run out and get KILLER INSTINCT, (or order it from Amazon and support my site.) If Joe is doing a signing in your neck of the woods, do stop by, he is well worth the visit. Check out his website for a tour schedule.