Publishers say few hits on blog books
By Lauren Beckham Falcone/ Books
Saturday, September 23, 2006
Not so long ago, having a popular blog was the ultimate "in" to get yourself a book deal.
Now? Not so much.
Bloggers, buoyed by site meter numbers and Internet buzz, were the darling of the publishing world about two years ago. But when books hit the shelves, sales fizzled, and now it takes a lot more than a laptop and a blogspot account to make it onto Amazon's top 100.
"They haven't performed as well as publishers hoped," said Boston-based literary agent Jill Kneerim. "It is still a phenomenon that people are hopeful about, but in many cases, people who are fans of the blog have already read the content. So what's the point in buying the book?"
Stephanie Klein, whose blog "Greek Tragedy" at www.stephanieklein.com netted her a six-figure, two-book deal, released "Straight Up and Dirty" this past spring. It wasn't the grand slam publishers expected. One agent told The Book Standard, "Paying $500,000-plus for that Greek Tragedy blogger was pretty dumb."
Other hyped blogger books such as "Baghdad Burning: Girl Blog from Iraq" (riverbendblog.blogspot .com), "Anonymous Lawyer" by Jeremy Blachman (anonymous lawyer.blogspot.com) and "I'm Not the New Me: A Memoir" by Wendy McClure (poundy.com) weren't anything to, well, blog about.
"A book has to be bigger and last longer than a blog," Kneerim said. "It has to be more than gossiping or talking about yourself."
Sara Nelson, editor in chief of Publishers Weekly, agreed.
"(Former Wonkette blogger) Ana Maria Cox's book didn't do as well as expected," she said.
Adams Media publisher Gary Krebs has published bloggers, most recently Erin Shea's "Tales from the Scale: Women Weigh In on Thunder Thighs, Cheese Fries, and Feeling Good at Any Size," based on www.ejshea.com/buddha.
"It's done quite well," he said. "But I think that (publishing bloggers) is something you have to scrutinize very carefully. If a blog gets the attention of the public, then we are at the point knowing that we really have to look at it and determine if there's something beyond it. Having a popular blog isn't enough to get a book deal anymore."
Tucker Max, the rare successful blogger turned author of "I Hope They Serve Beer in Hell" (tucker max.com), is a bit more, um, direct.
"These bloggers aren't good writers and they really don't get a lot of traffic if you really look at the numbers," he said. "They had a blog, people liked reading the blog, then they wrote stuff people don't want to read. Who cares what Jessica Cutler's novel is about? People liked reading she had sex with senators who paid her (money)."
BostonHerald.com - the Edge: Publishers say few hits on blog books
BRAD MELTZER BOOKSIGNING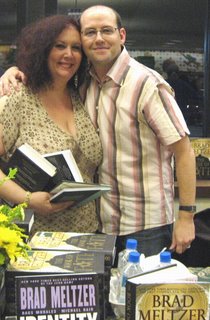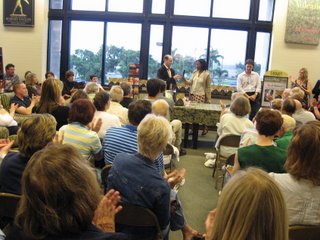 Last week I went to a Brad Meltzer book signing for his latest, THE BOOK OF FATE - which is a great read (reviewed on
my site
). It was standing room only at the Barnes & Noble in Boca Raton. One of the store managers guesstimated about 200+ people in attendance and I can tell you that all were very happy they came.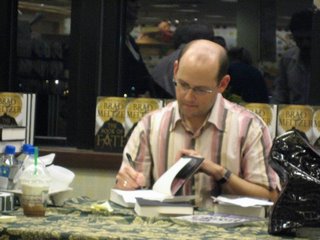 Brad was funny and articulate and warm and welcoming. He told some great stories, read a bit, then took questions from the audience. He thanked his wife, his family, Paul Castronovo (of the Paul & Young Ron morning radio team on BIG 105.9 here in south Florida,) and moi.
Then the line formed and snaked around the second floor while he answered more questions, posed for pictures and signed lots and lots of books. A fun time was had by all.
Hatchette Book Group has posted a fun tie-in game to the book online, check it out:
GUESS WHO'S A MASON