BookBitchBlog
Reading group classics - will these authors really be remembered 100 years from now?
Postwar novels dominate as 15 are chosen from 100 modern-era books
John Ezard
Saturday August 27, 2005
The Guardian
If 500 of this country's most fervent readers have got it right, the past 25 years have been a golden age for classic fiction, the past 15 years have been even better and the past five years have verged on the platinum.
Audrey Niffenegger's The Time Traveler's Wife (2003) is more enduring than Thomas Mann's Death in Venice, Ian McEwan's Atonement (2001) is more penetrating than Virginia Woolf's Mrs Dalloway, Captain Corelli's Mandolin (1994) is of higher merit than Ernest Hemingway's For Whom the Bell Tolls and Sebastian Faulks' Birdsong (1993) is greater than Graham Greene's The Power and the Glory.
This perspective will be news to most critics, academics and publishers, although publishers will be grateful for the boost for their newer titles. But it is the firm view of 48 book reading groups across Britain.
The verdict, discussed in today's Review supplement, is the fruit of seven months spent by the groups debating which titles published during the 20th century or so far this century will be considered classics in 100 years time.
One group member summed up their dilemma in deciding what makes a classic by asking: "Can we enjoy it or does it have to be worthy?"
These groups, in their role as discriminating readers, were asked by the publisher Vintage to come up with a list of their top 15 modern novels. Vintage, part of Random House, did so to celebrate its 15 years of publishing literary paperbacks.
The readers chose only two novels - the first world war classic All Quiet on the Western Front and Aldous Huxley's Brave New World - from the years before the second world war, which are usually considered the golden age of literary modernism.
Then their choice jumped to the 1960s, with Alexander Solzhenitsyn's One Day in the Life of Ivan Denisovitch, Harper Lee's To Kill a Mockingbird and Joseph Heller's Catch-22.
Nine of their favourite titles were published in or after 1980, three come from the 90s and four from the first three years of this century
The four latest books include two acknowledgedly substantial novels, Atonement and Mark Haddon's Whitbread prize winner, The Curious Incident of the Dog in the Night-Time. But no one in the UK books scene has previously ventured to suggest that the 21st century is producing enduring masterpieces at a rate faster than one every year.
Yesterday, however, the choice came as no surprise to Guy Pringle, publisher of Newbooks magazine, which is in touch with readers and readers' groups.
"The groups involved have not taken this lightly," he said. "But my guess is that the groups are keener on more recent fiction than in going back over the classics. The level of reaction has confirmed to me that people might say they like reading the classics, but they don't do so as often as they say.
"Classic titles have always been the hardest to shift when we have special offers for readers' groups. Even an easy and amusing classic like Three Men in a Boat was slow to move. But I know from what I've read in discussion groups that discussion about this choice has been very wide-ranging and thoughtful."
Tom Palmer, the reading partners coordinator for the government Reading Agency, set up the Vintage project with the 48 groups.
"Some groups read classics only, but the majority go for modern fiction. It's stuff like Captain Corelli's Mandolin that a lot of them read - good-quality middlebrow material."
Mr Palmer estimates that Britain has at least 10,000 reading groups. "I know of 400 in the East Midlands alone," he said.
Vintage gave each group free copies of 100 of its titles to choose from. This 100 had no books by Evelyn Waugh, James Joyce, DH Lawrence, William Golding or other writers usually considered classic, but otherwise included a fair spread.
Vintage's public director, Rachel Cugnoni, said of the project: "It's not a list created by academics or literary critics, but by ordinary readers. This is what makes the list authentic.
"To pin down exactly what defines a classic is hard to do and certainly open to debate, but ultimately what all recognised classics must have is the affirmation of large numbers of readers. These are the classics of the future."
Mary Rossall, a member of a reading group from Cumbria, said, "Even group members who were on holiday still took part - emailing their thoughts on their latest reads.
"In every single meeting we've had, we've ended up talking about how to define a classic. Is it literary merit? Is it a story that stays with you long afterwards? Is it a book that gives voice to people or events which would otherwise be silenced or forgotten?
"Can we enjoy it or does it have to be worthy?"
Writers themselves have difficulty defining what a classic amounts to. For Tim Lott, the book must "say something not merely of the time, but for all time".
Ruth Rendell has defined a classic as something that must be completely original: "Nothing like it has ever been done before. A classic may not be easy to read, but demands care and concentration and will seldom have much immediate appeal to those whose past reading has been thin on the ground or confined to the lightest of fiction. Even to them, when they persevere, it may turn out to be a favourite book, the most rewarding they have ever read."
Top 15 best reads
The Handmaid's Tale
Margaret Atwood, first published in 1985
Captain Corelli's Mandolin
Louis de Bernières, 1994
The Name of the Rose
Umberto Eco, 1980
Birdsong
Sebastian Faulks, 1993
The French Lieutenant's Woman
John Fowles, 1969
Memoirs of a Geisha
Arthur Golden, 1997
The Curious Incident of the Dog in the Night-time
Mark Haddon, 2003
Catch-22
Joseph Heller, 1961
Brave New World
Aldous Huxley, 1932
To Kill a Mockingbird
Harper Lee, 1960
Atonement
Ian McEwan, 2001
The Time Traveler's Wife
Audrey Niffenegger, 2003
Star of the Sea
Joseph O'Connor, 2003
All Quiet on the Western Front
Erich Maria Remarque, 1929
One Day in the Life of Ivan Denisovich
Aleksandr Solzhenitsyn,1962
Guardian Unlimited Books | News | Reading group classics - will these authors really be remembered 100 years from now?
Macavity Award Nominations 2005
(for works published in 2004)
The Macavity Awards are nominated and voted on by members of Mystery Readers International. Winners will be announced at Bouchercon on September 2, 2005.
Best Novel
The Killing of the Tinkers, by Ken Bruen (St. Martin's Minotaur)
Cold Case, by Robin Burcell (Avon)
Darkly Dreaming Dexter, by Jeff Lindsay (Doubleday)
High Country Fall, by Margaret Maron (Mysterious Press)
California Girl, by T. Jefferson Parker (HarperCollins)
Playing with Fire, by Peter Robinson (William Morrow)
Best First Novel
Uncommon Grounds, by Sandra Balzo (Five Star)
Summer of the Big Bachi, by Naomi Hirahara (Delta)
Whiskey Sour, by J A Konrath (Hyperion)
Dating Dead Men, by Harley Jane Kozak (Doubleday)
Misdemeanor Man, by Dylan Schaffer (Bloomsbury)
Best Nonfiction
Famous American Crimes & Trials, by Frankie Y Bailey & Steven Chermak, (Praeger Publishers)
Just the Facts: True Tales of Cops & Criminals, by Jim Doherty (Deadly Serious Press)
The New Annotated Sherlock Holmes: The Complete Short Stories, edited by Leslie S. Klinger (W.W.Norton)
Latin American Mystery Writers: An A-to-Z Guide, by Darrell B. Lockhart (Greenwood Press)
Forensics for Dummies, by D.P. Lyle, MD (Wiley Publishing)
Best Short Story
"Viscery" by Sandra Balzo (EQMM, December 2004)
"The Widow of Slane" by Terence Faherty (EQMM, March/April 2004)
"The Lady's Not for Dying" by Alana White (Futures Mystery Anthology Magazine, Winter 2004)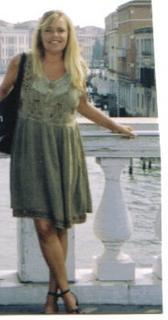 Meet Leana of Treasure Island, Florida - the winner of the July ITW Bookshelf of Books!
Leana won autographed copies of:
The Black Silent, signed by David Dun
Painkiller, signed by Will Staeger
Falling Down, signed by David Cole
Ghost Horse, signed by Patricia Rosemoor
The Halo Effect, signed by MJ Rose
Enjoy your books, Leana!
The latest recipient of the
BookBitch BookSlap:
Roxana Robinson, who obviously hasn't read many books in any of the genres she trashes. Ignorance run amok, and published courtesy of the Chicago Tribune.
A simpler, acrimony-free definition of `women's fiction'
By Roxana Robinson.
Roxana Robinson's most recent books are the short-story collection "A Perfect Stranger" and the novel "Sweetwater."
Published August 21, 2005
It is a truth universally acknowledged that there is such a thing as "women's fiction," but here agreement seems to end. No one can define the term to anyone else's satisfaction, and attempts to do so often degenerate into an exchange of accusations and denials. It's curious, how highly charged this issue is.
So let's try an empirical approach. Let's look at the books that women read in the largest numbers, the books standing in serried ranks at the airport and the supermarket: the best sellers. Certain books declare themselves, with pastel covers and soft-edged, blurry graphics. They're all by women. The jacket copy reveals the protagonist to be a woman and the plot to involve love. These are romances. Surely, if anything is "women's fiction" it is these books.
Like most best-selling novels, romances are escapist fiction, non-realistic fables. They follow formulaic conventions of plot, character and resolution. They deliver a clear moral message and no surprises. The narrative, after ingenious twists, always delivers the reader to the place at which she knew she would arrive. These books are neither beautifully written nor intellectually challenging; they offer little complexity and tell us nothing new or profound. So why do women read them by the millions?
Best sellers function the way populist literature has always functioned. Like myths, fables, fairy tales and sagas, they provide instructive reinforcement for our society. They validate our beliefs. They reiterate the truths we live by, or would like to live by, or which we would like to believe we live by. The truths are these: Virtue will be rewarded, and good will triumph over evil. Judging by the sales, this is a message we want to receive again and again.
Romances concern the quest for love, and their goal is engagement. The narrative device is a metaphorical search for awareness, with the heroine as the initiate who must undergo a series of trials. To succeed, she will need certain attributes: perceptiveness, generosity, empathy and self-knowledge. The human objective of the quest is the beloved--this is the heroine's shadow-partner, her other half. He and she have a date with destiny, which comes as the final engagement.
The heroine may learn that her perfect (but dead) husband was the father of her (supposedly) best friend's (supposedly) sperm-bank baby. She will be deeply shaken, but when she learns to forgive her dead husband, and her friend (who dies, too, so they needn't really make up, plus the heroine gets to keep the baby), as well as herself (for pretending that her marriage was much better than it actually was--frankly, it was a terrible sham), then she can accept the really perfect partner who has turned up just down the beach and who is so loving and true and a far cry from that--at last it can be said--two-timing cad.
The setting of the romance is domestic, the focus narrow. The heroine's worldly task is attraction, so the mechanics of allure are crucial, and its tools--clothes, makeup, hair-dos and manner--will be exquisitely detailed. The philosophical scope is limited. If a social issue arises--hunger among the poor, for example--the heroine will take the side of virtue, and favor feeding. Conventional morality reigns, and though philandering may occur, the final engagement will be based on fidelity. Loyalty is given to an individual, not an abstraction. Emotion is paramount, and love the engine here. Love is the dominant presence: It animates the characters, produces the suspense, provides the central action and the satisfying conclusion.
The underlying premise of the romance is a primal need for emotional connection. The heroine's reward is abiding love, with the implied concomitant rewards and responsibilities: children, home, roots and so on. This functions as a powerfully instructive text, with obvious benefits for society: If women are committed to their husbands, families and households, society will survive, supported by a vast network of committed women, who will provide stability, continuity, communal interconnection and moral consensus. These are the foundational pillars on which any society depends.
Societally, the romance genre plays a big role, and economically, it's a huge market. So it's curious that "women's fiction" is treated so dismissively. The term is a slighting one, faintly derogatory, though people who use it might deny this. This is why the issue is so charged: It seems that the mere declaration of gender confers belittlement. And why is this? Could this be that old, outdated bugaboo, gender discrimination? Aren't we way past that? But it's hard to see this as anything else. It makes no sense to dismiss this genre simply on the grounds of populism, because men have their own populist fiction.
Let's look at thrillers.
Thrillers, too, declare themselves on sight. The covers are ominous grays and blacks, with bold, hard-edged graphics, often in crimson, and often featuring ideologically coded designs, like swastikas. The copy declares that the protagonist is a man and the plot involves death. This, too, is escapist fiction. It's formulaic, obeys conventions, delivers a moral message and ends just as it ought.
The premise here, too, assumes a primal need for engagement, but here this means mortal combat. The narrative device is that of the hunt--a real, not metaphorical, one. The hero is hunter and prey. To succeed, he must be resourceful, elusive and homicidal. (Not ideal husband material.) The vehicle is an international ideological struggle, carried out at a personal level, and the hero is on the side of Right. (He's usually trying modestly to save the Free World.) The human objective is the enemy, the hero's shadow-partner, his other half. They, too, have a date with destiny: They're trying to kill each other.
The focus here is close as well, though the setting is international and the politics global. In the thriller, loyalty is given to an abstraction. The hero's primary task is killing, so his tools--guns, knives, tanks, bombs, warships and fighter planes--are described in exquisite detail. (You may find the lengthy and precise technical discussion of nuclear-submarine deployment in the North Atlantic fascinating. Or you may find it deeply soporific.) The heroes of thrillers are often loners--single, mobile and disengaged--who rely more on their own wits than they do on orders from their superiors. The fundamental struggle here concerns escape, the emotional engine is fear, and the animating presence is death. Fear of death is constant, and the more terrifying the action, the better the story. The hero risks his own death, and deals it out to others, in defense of his country. His escape, and his enemy's destruction, function as personal and political victories. The benefits here are clear: A society needs citizens who will risk their lives for the greater good. In our individualistic culture, the daring loner--James Bond, Walter Mitty--is valued more than the obedient soldier.
So why aren't thrillers called "men's fiction"?
Thrillers are every bit as shallow as romances: They're just as simplistic, just as formulaic and, just as often, poorly written. So why do the two genres receive different degrees of respect? Thrillers have a virile and swashbuckling air, romances, a pallid and sentimental one. Thrillers are cool and romances are not: It seems sex is not as sexy as death.
Yet if love and death are the two great subjects of fiction, if they embody the opposite extremes of our desires, and if they provide the two great pillars supporting the long arc of human experience, why do they receive such different levels of respect? Because the same discrepancy occurs among literary works, as Virginia Woolf observed:
"This is an important book, the critic assumes, because it deals with war. This is an insignificant book because it deals with the feelings of women in a drawing room. A scene in a battlefield is more important than a scene in a shop--everywhere and much more subtly the difference of value persists."
Now we see why the term "women's fiction" is so difficult to define--because it's not confined to formulaic, mass-market works. It seems that this dismissive tone may be applied to any domestic fiction, written by a woman, that takes as its subject the great question of human desire. It doesn't matter how seriously the author takes the question, nor how beautifully she writes, nor how serious the question actually is--the work may still be swept right off the table and onto the floor with the bodice-rippers, using the all-inclusive denomination. Needless to say, the term does not apply to books on this same precise subject that are written by men. No wonder this is all so confusing: sometimes "women's" applies to the subject, and sometimes to the author.
So maybe we should define the term altogether differently.
Maybe it would simplify the issue, and drain the debate of acrimony, to define the work instead by its readers. Because women dominate the audience for literary fiction, the writers of "women's fiction" would be Updike, Cheever, Marquez, Lethem, Franzen and the other distinguished male authors whose work is read by women in droves.
If the term isn't sexist and contemptuous--and no one who uses it admits that it is--then these writers should be grateful for the title, and proud.
Chicago Tribune | A simpler, acrimony-free definition of `women's fiction'
For my daughter...
Ariel became a Bat Mitzvah this past week. She did a beautiful job chanting her Haftarah, and made me, her father, her family and friends very proud.
I asked her what the highlight of the day was, and she said when I cried reading the poem I wrote for her. So I'm going to float it out here in cyberspace...
ARIEL, A BAT MITZVAH
written with love by her mother
August 21, 2005
On this occasion I get to kvell
A captive audience I get to tell
How proud Ariel's made her father and me
How much she's loved by her friends and family.
I spent the summer of '92
Sweating, even while swimming in a pool
But it was worth it, come August 6th
Ariel was born, we got our wish.
She was always a sweet intelligent child
Never really misbehaved or was wild
And I'm very happy to say
Somehow she's managed to stay that way.
She starting playing t-ball when she was four
Moved up to softball, had fun when she scored
Loves to go camping & hiking through the 'Glades
Ariel & her dad have seen lots of nature this way
In middle school she joined the band
Picked up a bassoon and thought it sounded grand
She also has fun playing video games
And her computer keeps her busy, chatting on AIM
She practically grew up surrounded by books
Between Borders & the library no wonder she's hooked
There are worse addictions I'm sure
Than the one she shares with me, reading books by the score.
One day Ariel came to her father and me
And said a Bat Mitzvah is what I want to be
I want to follow the same path my brother took
And study the Torah and the prayer book.
Daniel is a terrific older brother
He does good things, one after another.
Ariel notices and follows his lead
He's not even aware that he plants these seeds.
Through the years they've given us so much pleasure
That it would be impossible to measure
I'm honored to speak for me & Larry today
As we share in this very special day.
The Proverbs state: "Train up a child in the way one should go."
What we've sown, may you grow.
We hope that we've filled your head with our voices
Because ahead lies a road strewn with many difficult choices.
Be strong, be healthy, and believe in yourself
Cherish your family and friends, for they are true wealth
A life lived "Jewishly" and filled with love and happiness
This is what we wish for you - only the best.
Thanks for being our sweet Ariel
You're smart and fun and funny as
hell
heck
Thank you for giving me the opportunity to say my fill
We love you very much and we always will.
A Book to Read Carefully, With a Physical Therapist Near
By EDWARD WYATT

"Hunger's Brides," Paul Anderson's debut novel, is certain to be one of the biggest books of the fall. The question is how many readers will want to do the heavy lifting required to read it.
At 1,360 pages (not counting 8 pages of titles and contents at the beginning of the book and 8 blank pages at the end, presumably added for production reasons) the book, quite simply, is massive. It weighs 4 pounds, 9 ounces, equivalent to two and a half copies of "The Da Vinci Code," and it is thicker than Verizon's Manhattan telephone directory (either the white or yellow pages).
"The size implies a certain audacity, especially since we are living in the age of the sound bite," said Philip Turner, the editor in chief of Carroll & Graf Publishers, which will release the book on Sept. 14. "But we figured, why not publish the apotheosis of the big novel?"
"Hunger's Brides" puts other behemoths to shame, including Michel Faber's "Crimson Petal and the White," (848 pages, 3 pounds); Neal Stephenson's "Quicksilver" (944 pages, 3.3 pounds) and the recent reigning champ, Vikram Seth's "Suitable Boy" (1,349 pages, 4.1 pounds).
The plot of "Hunger's Brides" revolves around Sor Juana Inés de la Cruz, the 17th-century Mexican poet and nun whose vow of silence at the age of 40 was signed in her own blood. Her life and work have inspired writings by Octavio Paz, Robert Graves and Diane Ackerman.
But the book is more - much, much more - than an extended piece of historical fiction. It is also the story of Beulah Limosneros, a graduate student who immerses herself in the study of Sor Juana, and Donald Gregory, her professor and a serial adulterer. And in addition to narrative fiction, it is told in the form of poetry, dramatic plays, letters and notes in the margins.
"It is an elaborately beautiful, intricately baroque game that has at its center this mystery about Sor Juana's silence," said Anne Collins, the publisher of Random House Canada, which published the book last fall. Ms. Collins who said she fell in love with Mr. Anderson's writing in 1999 after reading a 50-page sample from the draft of the novel, in which he wrote lyrical passages in four distinct voices.
"Not many first-time novelists have even a clue how to do that," she said. "He totally hooked me."
When Mr. Anderson - a Calgary, Alberta, resident, who worked on the book for 12 years - submitted his 1,000-page manuscript, Ms. Collins had one piece of advice for him: Make it longer.
"What was missing was something that I knew he already knew was missing," Ms. Collins explained - the leap into what, from her childhood or whenever, haunted Sor Juana and eventually forced her into her vow of silence. "I told him, 'You can't not go there.' And that's how it got longer."
Mr. Turner, the American publisher, said that other than making minor changes, he never considered re-editing the book or trying to shorten it. "Because of the sumptuousness of the package - this is a gorgeous piece of typesetting - we weren't inclined to alter it," he said.
"In for a penny, in for a pound," he added - or in this case, four and a half of them.
"Hunger's Brides" has received attention for more than just its girth. After generally good reviews, the book won the top prize for literary fiction at the Alberta Book Awards. Random House Canada sold its entire first press run of 5,000 copies and has gone back to press.
Carroll & Graf has printed 10,000 copies, and the book received starred reviews in Library Journal and Kirkus Reviews and is on the September recommended list of BookSense, a trade group representing independent bookstores.
But there is no escaping its size, which evidently has presented problems for the book's printers as well as its readers. (One copy arrived at this newspaper with the book's pages bound upside down within the cover.) To aid readers, the author himself has contributed some helpful hints. The book's elaborate Web site (www.hungersbrides.com) features a slide show of "safe reading positions."
A Book to Read Carefully, With a Physical Therapist Near - New York Times
Authors to give eBay bidders a read
by LESLIE WALKER
The Washington Post
Now is your chance to die in a Stephen King novel or be portrayed "in a good light" in the next thriller from John Grisham – while championing the cause of free speech.
That is the idea behind a charity auction on eBay Inc. that starts Sept. 1 and features 16 authors selling character names to the highest bidders.
All proceeds go to the First Amendment Project, a nonprofit legal group dedicated to free speech.
In addition to King and Grisham, writers agreeing to sell a name in their upcoming books include Amy Tan, Peter Straub, Nora Roberts, Lemony Snicket and Dave Eggers.
All have penned summaries of what they plan to offer in an auction preview at www.ebay.com/fap.
Not all are selling characters. Neil Gaiman has offered to include "your name or the name of someone you love" on a gravestone in his upcoming novel.
Snicket, a popular children's writer, is offering "an utterance" by a certain character but concedes the spelling might be "mutilated."
The most priceless preview comes from horrormeister King, who writes that he will want his buyer to provide a physical description and nickname – "can be made up, I don't give a rip," he writes – and that "a buyer who wants to die must in this case be female." The winning bidder will appear in King's book "Cell" next year or in 2007.
In all cases, anyone named must grant their permission, said David Greene, executive director of the First Amendment Project. Each auction will last 10 days. To deter fraudulent bidding, once bidding goes over $1,000, participants will be contacted to verify that they intend to pay, said Eric Gazin, president of AuctionCause, the company managing the event.
The auction was started by novelist Michael Chabon. He began soliciting contributions from writers a few months ago, when he realized the group was running out of money.
Gaiman suggested he consider an auction modeled after a smaller charity event he held last year, in which he sold the name of a cruise ship in his next novel for $3,500.
Chabon, who also plans to sell one of his character's names, said almost every writer asked to participate agreed immediately.
One who did balk told him, "It's a great cause, but I just can't give somebody else that amount of control over my book. I need to be able to name my characters."
Chabon admitted that the couple of times he has auctioned off minor characters in his novels — to raise money for his children's school, for example – he wasn't too happy with the results.
"The winning names were not even remotely names I would have chosen or invented," he said.
But that paled beside what happened to a novelist who held a similar charity auction years ago, Chabon said.
A rival author won and asked that his name be inserted in the novelist's book. That is why he has a line in his preview reserving "the right not to use the name if it is offensive, mischievous, ill-intentioned or inappropriate."
Northwest Herald - Online
This Into That
Need bookshelves? Appreciate the unusual? Believe in recycling?
Here's a novel idea that you will appreciate.
Have a look at
www.thisintothat.com
Can't Wait for a Book? Paris Can Help
By JENNY BARCHFIELD, Associated Press Writer
Fri Aug 19,10:40 AM ET
Readers craving Homer, Baudelaire or Lewis Carroll in the middle of the night can get a quick fix at one of the French capital's five newly installed book vending machines.
"We have customers who know exactly what they want and come at all hours to get it," said Xavier Chambon, president of Maxi-Livres, a low-cost publisher and book store chain that debuted the vending machines in June. "It's as if our stores were open 24 hours a day."
Stocked with 25 of Maxi-Livres best-selling titles, the machines cover the gamut of literary genres and tastes. Classics like "The Odyssey" by Homer and Carroll's "Alice in Wonderland" share the limited shelf space with such practical must-haves as "100 Delicious Couscous" and "Verb Conjugations."
"Our biggest vending machine sellers are 'The Wok Cookbook' and a French-English dictionary," said Chambon, who added that poet Charles Baudelaire's "Les Fleurs du Mal" — "The Flowers of Evil" — also is "very popular."
Regardless of whether they fall into the category of high culture or low, all books cost a modest $2.45.
Installed in four busy Metro stops and a chic street corner in central Paris, Maxi-Livre's distributors were designed to bypass the characteristic vending-machine-drop, which can be punishing for books.
"We knew that French bibliophiles would be horrified to see their books falling into a trough like candy or soda," Chambon said. "So we installed a mechanical arm that grabs the book and delivers it safely."
Books are but the latest offering in France's ever-expanding vending machine market, which is responding to off-hour demand for everything from toilet paper to carnations.
Can't Wait for a Book? Paris Can Help - Yahoo! News
The BookBitch gets interviewed!
I was interviewed by David English for Book Talk, an Internet radio program. My interview is scheduled to run the week of Aug 22, 2005 on David's Book Talk. The interview will air Tuesday, Thursday and Saturday at 3:00, 7:00 and 11:00 AM & PM on Leisure Talk Radio Network. Listeners can access the feed at:
http://www.leisuretalk.net
An audio player, such as Windows MediaPlayer, WinAmp, iTunes, Real player, or several others can be used hear the show. In September, they will put the show up on the Podcast feed so that it will be available for download for on-demand listening or for play on a portable MP3 player such as an iPod.
Check it out and send me feedback!