M.J. Rose at Murder on the Beach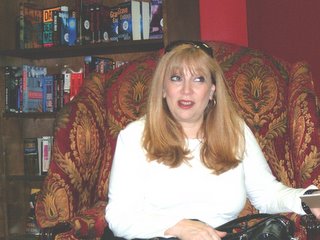 It was such a thrill for me to finally meet one of my favorite authors, M.J. Rose. I heard about MJ when her first book, Lip Service, a self-published tome, was picked up by the Literary Guild/Doubleday Book Club in the late 1990's. It was big news in the book business, a first for a self-published novel. Then it went to auction and was published by a traditional house. I snagged myself a copy and fell in love with her unique writing style and I've been hooked ever since.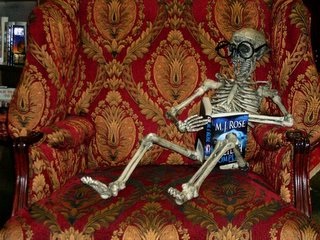 These days Rose is writing a series of psychological suspense. Her lead character is a sex therapist and single mom, Dr. Morgan Snow, and the books are set in New York City. The first book, The Halo Effect, was terrific and I just started the new one, The Delilah Complex. I've had to reluctantly put it down (temporarily!) to read Steinbeck for school. I'll just say this: Steinbeck may be a great writer, but he's slow going compared to Rose!

This is her first book tour and Rose was impressive. She's very personable and warm and really turned what could have been just another reading and book signing into a memorable event. She spoke about her careers, her books, and the publishing industry and then decided to make the program interactive. Most people believe that at least parts of what they read in a work of fiction are somewhat autobiographical to the author. Rose has proposed a contest: she asks attendees at her signings to guess how many instances of "truth" there are in her newest book. Whoever guesses closest will win a gift certificate to the bookstore they saw her in. And then she took it a step further; there was a small enough group for Rose to turn the tables and ask her fans some questions for a change. She wanted to know about what they read and why, and what makes them stop reading a series. It was a fun and fascinating evening.